TF-G4 Euro Style Kombinierte Verdrahtung 4mm Ground Wire Connector
Produktbeschreibung
TF-G4 Euro Style Combined Type Wiring 4mm Ground Wire Connector
Gerneral Product Information

Item number:

TF-G4

Size:

56.0*8.0*47.0mm (L*W*H)

Wire Size:

4.0 mm2 (Stranded)/ 6.0 mm2 (Solid)

Wire Size:

AWG 22~10
Dimensions [mm]
Item No.
Wire Range
Length (L)
Width (W)
Height (H)
TF-G2.5

2.5 mm2
52.0 mm
6.0 mm
47.0 mm
TF-G4

4.0 mm2
56.0 mm
8.0 mm
47.0 mm
TF-G10

10.0 mm2
56.0 mm
10.0 mm
47.0 mm
TF-G16

16.0 mm2
50.0 mm
12.0 mm
58.0 mm
TF-G

35

35.0 mm2
58.0 mm
16.0 mm
71.0 mm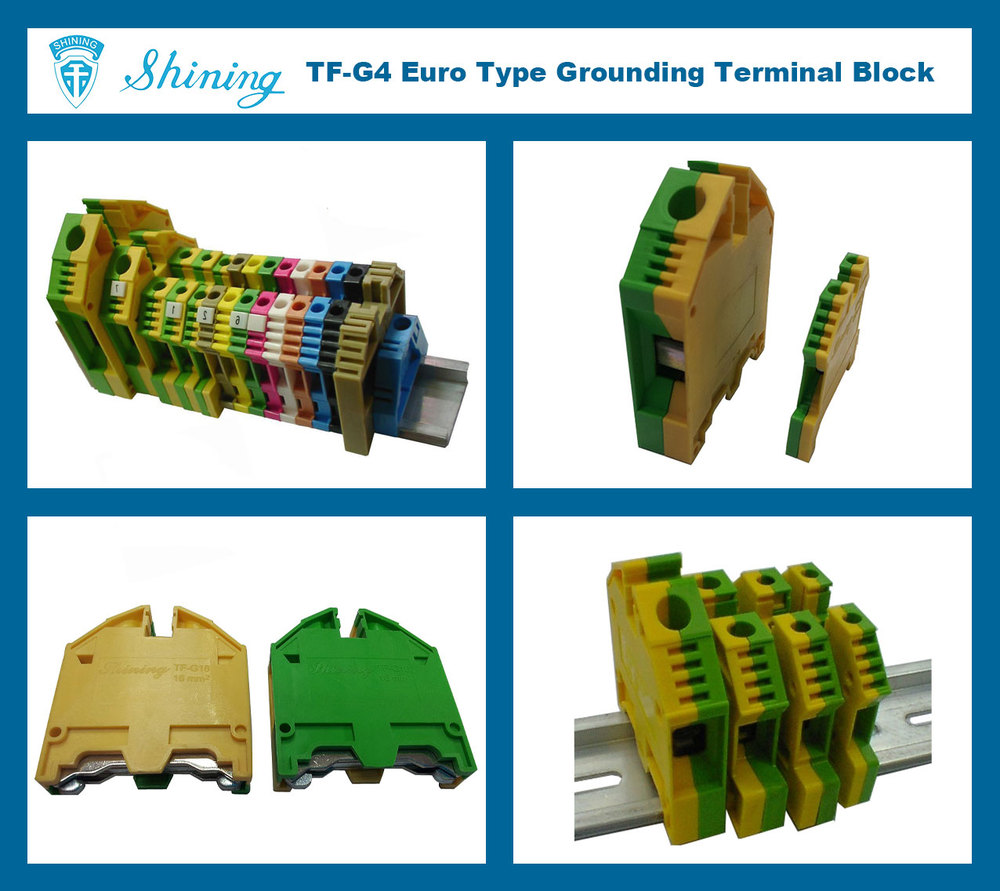 Produktbeschreibung
Product Features
Item Number: TF-G4
Wire Range: Solid Wire- 0.2~6.0mm2
                     Stranded Wire- 0.2~4.0mm2
Install Type: By 35mm Din Rail
Pole: Any Pole Assembly is available
Certificate: RoHS Approval
Assembly with Din Rail TA-001A / TA-001S
The TF-G Series Earth Terminal Blocks meet the strict requirements for low contact resistance, corrosion-free connection points, secured screws, green and yellow color coding and clear circuit identification. Since these Terminal Blocks are properly Insulated, they can be positioned next to current carrying terminals. The Earth Terminal Blocks are structurally designed to mechanically and electrically connect to Mounting Rails, when Din Rails are mounted to the metal cabinet or sub-panels and properly connected to earth, the proper earthing process is complete.
                       


Item No.

TF-G2.5

TF-G4

TF-G10

TF-G16

TF-G35

Electrical Specifications
 
Temperature [℃]
110
Materials / Flame Retarded Grade
Nylon / UL94V-0
Conduct cross-section, solid [mm2]
0.2~4.0
0.2~6.0
0.2~10.0
2.5~25.0
2.5~50.0
Conduct cross-section, stranded [mm2]
0.2~2.5
0.2~4.0
0.2~10
2.5~16.0
2.5~35
Conduct Size [AWG]
22~14
22~10
20~8
12~6
12~2
Color
Yellow Green
Approvals

UL, cUL, CE pending

Dimensions
 
L x W x H [mm]
52x6x47
56x8x47
56x10x47
50x12x58
58x16x71
Accessories
 
DIN Rail 35mm
TA-001A / TA-001S
End Clamp
TF-ECH / TF-ECL
Marker / Label MK
0.....49 / A.....Z/
Verpackung & Versand
Packaging
200pcs/box, 1,200pcs/6boxes/N.W. :22.8kgs /carton
Shipping information
1. For small quantity, shipment is prefered to shipping with express by

UPS, DHL, EMS, TNT or FedEx

to meet your deadline on time worldwide basis.
2. For regular mass production, shipments can be arranged by air-shipping, sea-shipping or express. Let us know on your requirement we will try to save your budget and meet deadline.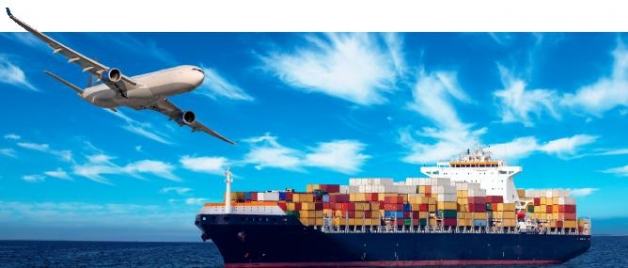 Unsere Dienstleistungen
Our Services
Shining E&E Industrial Co., Ltd. is a well-experienced manufacturer, offering Electronic Components, Plastic Products, Terminal Blocks and Fuse Holders for more than 30 years. We mainly provide Ceramic Terminal Block, Fuse Clip, Solid State Relay (SSR), Barrier Strip, Power Terminal Block, Insulators, Screw Terminal Block, Electrical Connectors, Busbar Support and Terminal Block Connector, all with superior quality. If you need more information about Electrical Terminal Blocks and Fuse Blocks, please do not hesitate to contact us.

Firmeninformation
Shining E&E Industrial
A specialized supplier of terminal blocks, fuse holders, barrier strips, and solid state relays (SSR) since 1978.
Shining E&E Industrial Co., Ltd., founded in 1978, is a specialized manufacturer and supplier of plastic and electronic components products. We have experienced growth steadily year after year. Since 1992, our oversea factory, which is located in GuanDong Province, China, has been built to support our continuously expanding business. Awarded SGS ISO 9001:2000 certification since 2005.
We have endeavored to the design and fabrication of all kinds of plastic products and have profound OEM/ODM experience with domestic and world-famous enterprises, such as TECO, TAIAN, Wal-Mart, Kmart, Target, Springs, and Sears, and so on. At present, we are extending our business to North America, Middle America, South America, Europe, Asia, Australia, and Far East countries.
We have firmly believed in the idea of consistent quality, service, honesty, and responsibility, which is also our policy to satisfy our customers with the most competitive price, the excellent quality, and the best service. If you are interested in any of our products, please feel free to contact with us immediately. We look forward to building a long-term cooperation relationship and bringing a mutual benefits with you.
We are very interested in cooperating with manufacturers in other fields and look forward to benefit for each other. "Working For A Better World" is our slogan. We deeply expect to have this world to be safer and better.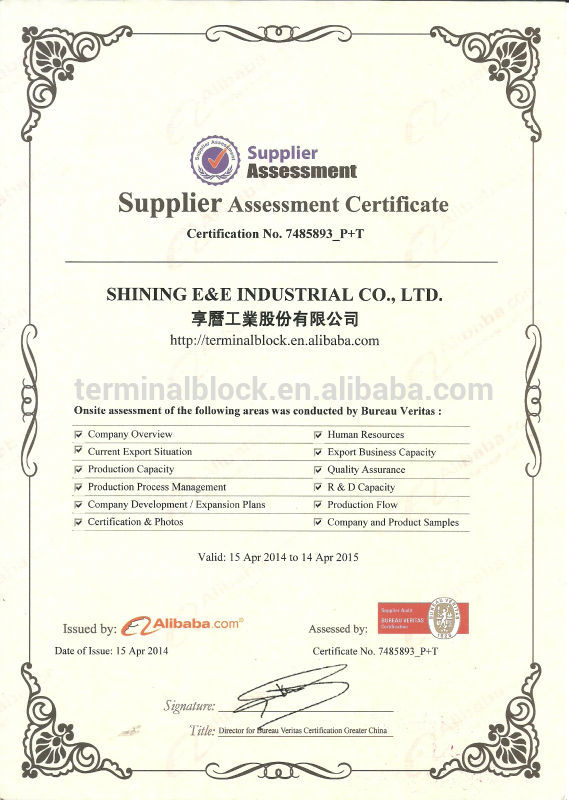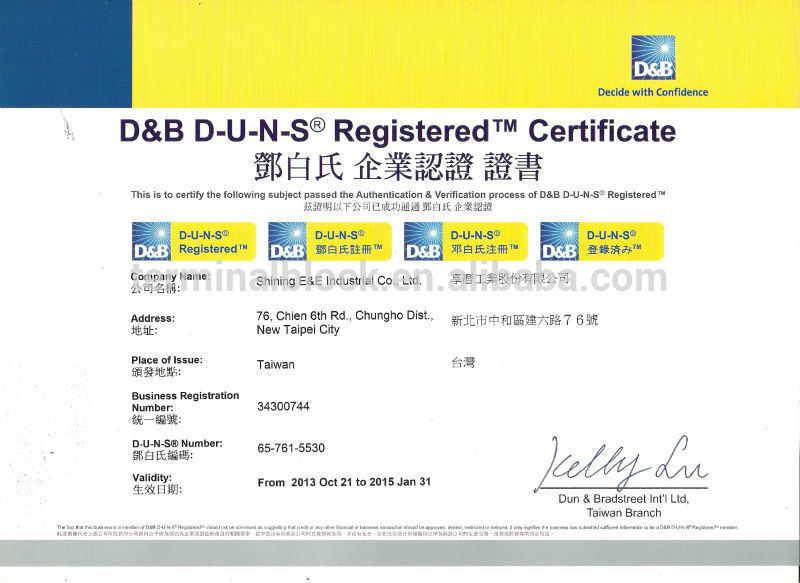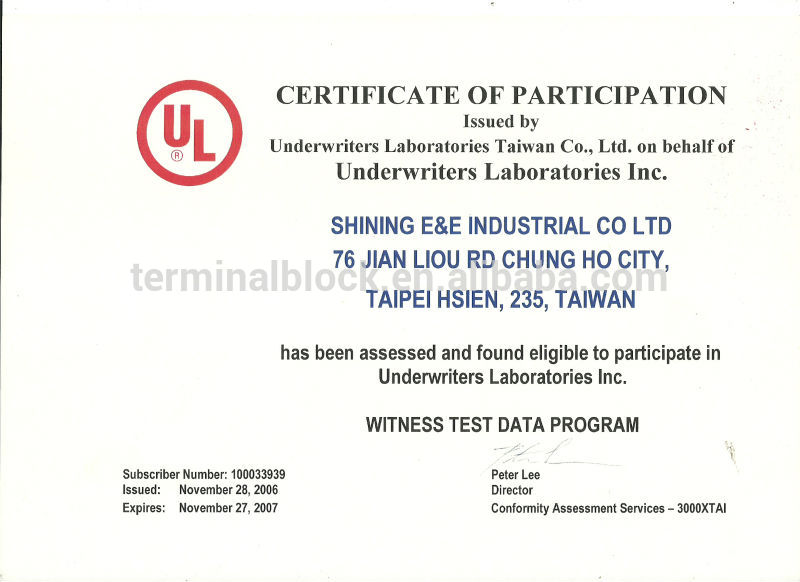 FAQ
FAQ
Q: What are the proper Torque Values for Terminal Blocks?
A: The torque depends on the type and size of screw/hardware used in the terminal block.  Torque values can be found on our spec sheet.
Q: What are the proper using conditions and temperature for the Terminal Blocks?
A: For terminal blocks made from plastic, conditions with strong acid, alkali or greasy, or the rate of humidity is more than 60% should be avoided.  Temperature should be within -40°C~110°C, and do not use them in frozen or dew formed condition.
Q: How can I get your quotation?
A:  Please provide us informations as below:
     1. Item Number.
     2. Quantity.
     3. Company Profile (Name, Tel, Fax, Address, and Webpage)
     4. Any Other Relevant Details.
Q: How long is the lead time after placing the order?
A: Lead time depends on a number of factors, such as the stock and production status.  Usually the sample orders take about 2~3 business days, and the mass orders take about 7~14 business days after the order is placed.
Q: How long does the delivery time take?
A: We send our goods from Taiwan, and the delivery time depends on the location of your delivery address, and the shipping way will be Express Service, Sea Shipping, Air Shipping for you reference. Express Service: The ETA will be 3~7 days after remitting the Payment. Sea Shipping and Air Shipping: It will be depended on Logistic Schedule after remitting the Payment.
Q: Which type of terminal block should I choose?
A: First, you need to check how much ampere and voltage rating you require and how many wires need to be connected, and how to be connected.  In addition, you can choose a way you prefer to install your terminal blocks (by screwing, plugging, welding or you can clip or screw them on a DIN rail)?  Or do you have any other special requirement (heat resistant, grounding, different colors or other customized demand)?
Webseite: Terminal Block (TF-GSeries)
Produktgruppe : Anschlussblöcke > Euro-Typ Erdungsklemmleiste